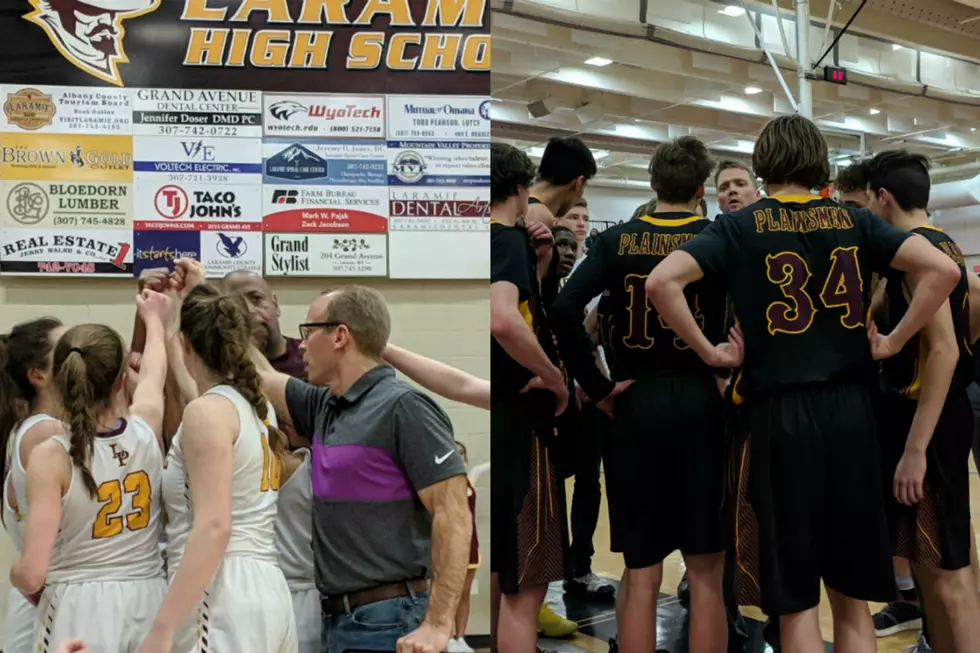 A New Look Postseason Awaits Laramie Basketball
David Settle, Townsquare Media
The road to state for both Laramie High School basketball teams begins Thursday at the 4A East Regional Championships in Cheyenne.
Laramie takes on Thunder Basin in girls' and boys' first-round action. The games are split between two venues on the first day. The Laramie Plainsmen take on the Bolts at Storey Gym beginning at 3 p.m. The Lady Plainsmen will play Thunder Basin at 6 p.m. from Cheyenne East High School.
The 4A East Regional has a new format in 2019. With an expansion to 16 teams in the big school class, it's now a true, eight-team, double-elimination bracket at the regional tourney. Each team has to win two games to qualify for the state tournament, while you have to lose twice to be eliminated.
That means, gone are the one-game, loser-out scenarios and automatic bids to state. Everyone has to play their way into next week's action in Casper.
Lady Plainsmen head coach Rod Tyson said we know we've got two games no matter what.
"That's a little bit better, instead of one game and you're out, but it doesn't make any difference, the competition's still going to be really stiff, and you have to play well. I'll let you know more after the weekend (whether I like it or not)."
Plainsmen head coach Travis Brown is a fan of it.
"It's what I was used to in high school in Washington State, so, to me, this is old hat in some ways. What's nice is if you have a bad game here or there, or a bad game plan, there's an opportunity to come back (from it). If you win that first one, there's light at the end of the tunnel, right there."
Both Laramie teams lost their first meeting in the regular season against Thunder Basin. There was only one game between the two schools in quadrant crossover action, and that was on Feb. 2 in Gillette.
The Laramie girls lost to the Bolts 64-37. Tyson said to prepare for this game or anyone at the regional tournament it's our execution that will matter.
"Being smart and tough with the ball. Same things we've been talking about all year. Even though we have gotten better, we're going to have to be even better to beat a strong team like that (Thunder Basin)."
Tyson did mention they'll have a few wrinkles ready for their game against the Bolts.
The Plainsmen lost 50-34 at Thunder Basin. Brown said their first encounter showed they can compete with them.
"We were up by three going into halftime, and then didn't come out with the energy and focus we needed to. They made some good adjustments, but I like the match-up. I think athletically, we might have the advantage. They are a very disciplined, well-coached team. We're going to have to out-gut them, out-grit them, and get on the glass."
Win or lose both Laramie teams will play again on Friday. There's the possibility of also playing Saturday, and perhaps even twice on the last day of the regional tournament, but LHS has to win at least one game to get to day three.
KOWB (AM 1290) will broadcast both Laramie games Thursday from Cheyenne. Join David Settle for live coverage. It's a split doubleheader. The boys' broadcast will start at 2:30 p.m. The girls' coverage will begin at 5:30 p.m. You can also listen online, through the KOWB App or any Amazon Alexa-enabled device.