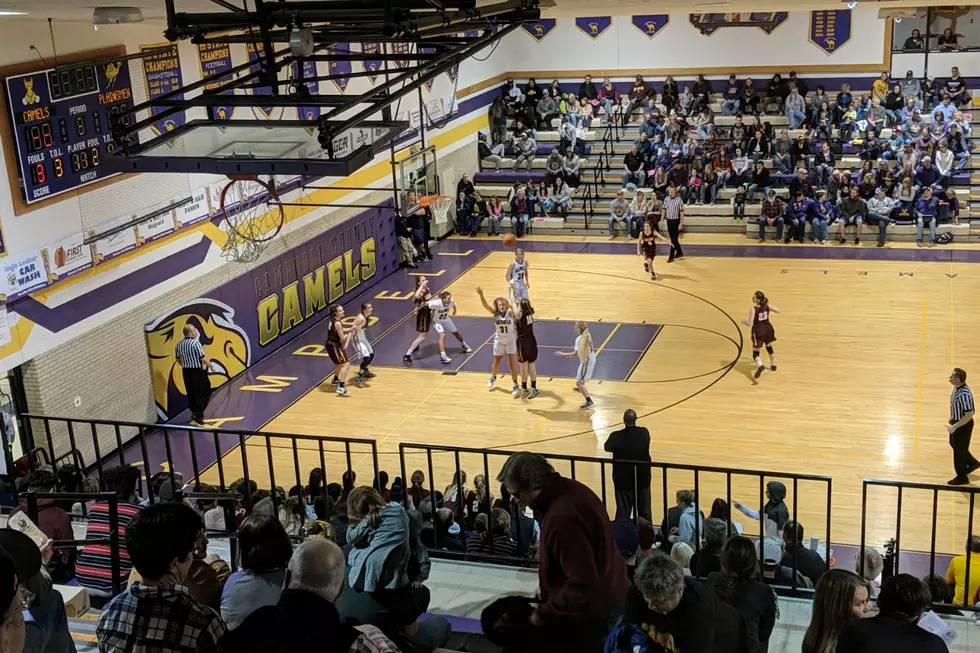 Camels Sweep Laramie in Gillette
David Settle, Townsquare Media
The start to the road trip was a tough one for Laramie Friday night, as both the Plainsmen and Lady Plainsmen lost to the Gillette Camels.
The Laramie girls fell 65-36, while the boys lost 66-57. Both teams gave up first-half leads.
Laramie Lady Plainsmen
Laramie (3-11) got off to a good start, but couldn't sustain their play, and ended up getting blown out.
Lady Plainsmen head coach Rod Tyson knew was the issue was.
"It was just turnover, turnover, and turnover. Coach Roehrkasse keeps stats for us and we wanted to see how many points they scored off our turnovers. I think he said they had 36 points off our turnovers, so those are the kind of things we need to cut down. I think we lost by 30, so we gotta cut those down and gotta be tough with the ball."
Senior Jennifer Aadland scored the first six points of the game for a 6-0 lead early on. It was all Camels after that.
Gillette (7-6) scored the next 15 points and never trailed. They led 15-8 after the first and then built a 30-14 lead by halftime. Rylee Hladky scored 20 points in the first half.
Livia Castellanos exploded for 17 points in the third quarter, as the Camels out-scored LHS 26-8. The lead grew all the way to 38 points in the fourth quarter before a small Laramie rally trimmed it back to the final margin of 29 points.
Gillette shot 49 percent from the field. Hladky led the way with 24 points, while Castellanos finished with 17 points.
The Lady Plainsmen shot only 29 percent in the game. Aadland led the way with 16 points. Janey Adair and Kylee Cox had five points apiece. It was the eighth straight defeat for LHS.
Tyson added, "I talk to the girls after, and all the games, you either win or lose, you're happy or sad, but then you still have to let it go. You can't let the way you played tonight affect the way you play tomorrow. We don't want to lose tomorrow's game because of tonight."
Laramie plays at No. 1 Thunder Basin at 1 p.m. Saturday.
Laramie Plainsmen
Laramie (7-7) let a 12-point halftime lead slip away and fell by nine to the Camels. They got out-scored 38-17 in the second half.
The lead changed hand twice early before the Plainsmen seized control. Behind 10 first-quarter points by Will Tyser, LHS led 19-13. They pushed their led to double figures early in the second and led 40-28 at the break.
Neither team shot well in the third, but Gillette had two late baskets that helped start their surge. Then, a pair of three's, one by Luke Hladky and another by Trase Olsen, plus some free throws helped the Camels storm in front.
Laramie head coach Travis Brown said it was a tale of two halves.
"We played into their ability to come back."
Gillette (9-6) trailed 46-40 in late in the third. A 19-3 run by the Camels that bridged the third and fourth quarters put them in control. At one point, they had out-scored LHS 31-9 in the second half. Olsen's three from the top gave them the lead, and Gillette got up 59-49.
Laramie rallied within 60-57 and had the ball with a chance to cut it to one. Tyler Oppie's shot rattled in and out and was no good. The Camels got the rebound and made six free throws down the stretch to pull away.
The Plainsmen were led by Hudda Herrera with 21 points and 21 rebounds. Tyser added 14 points, while Christian Mickelson chipped in 11. They shot 40 percent in the game, which included just 29 percent in the second half.
The Camels were led Hladky with 19 points, while Olsen finished with 17 points. Gillette shot 34.5 percent in the game. They made nine 3-pointers and were 11-12 at the charity stripe in the second half.
Brown added, "I walked into the locker room, it hurt, and that's a team that wants to win, and will do what it takes to win moving forward. I could see how painful it was for them. They're not done by any means."
Laramie looks to bounce back against No. 5 Thunder Basin Saturday at 2:30 p.m.
Today's Games
KOWB (AM 1290) radio will air both games live in the doubleheader at Thunder Basin. You can join David Settle for the broadcast starting at 12:30 p.m. You can listen on the radio, online, through the KOWB App or Amazon Alexa-enabled devices.