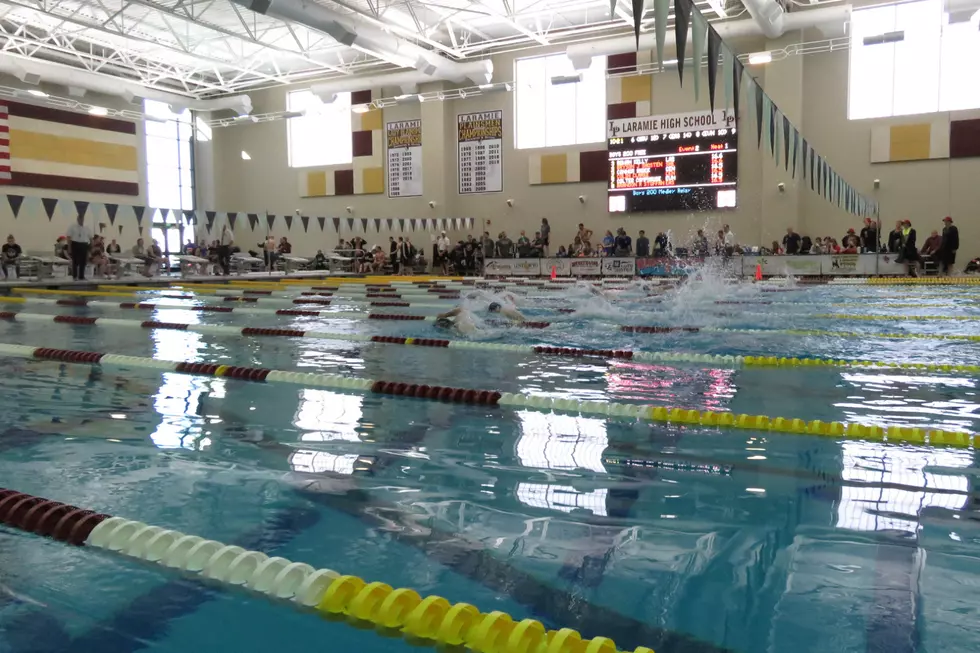 Laramie Girls Swimming, Cross Country, and Volleyball Post Wins
David Settle, WyoPreps.com
The past week was another successful one for Laramie High School student-athletes in swimming, diving, cross country, and volleyball.
The Lady Plainsmen swimming and diving team won their two dual competitions. The cross country teams faired very well in Cheyenne, and volleyball stayed undefeated.
Lady Plainsmen Swimming & Diving
Last Friday's big showdown with Cheyenne Central saw LHS step up and meet the challenge. Laramie defeated Central 103-to-81.
The Lady Plainsmen won 10 of the 12 events in the dual. Katie McPherson, Anna Roesler, and Ashlyn Mathes won two events apiece. McPherson won the 50 and 100 freestyle races. Roesler took first place in the individual medley and butterfly events. Mathes added wins in both the 200 and 500 freestyle races. Natalie Six won diving, and LHS took first place in all three relays.
On Saturday in Cheyenne at South High School, Laramie took on the Cheyenne East Thunderbirds and prevailed, 110-58.
LHS swept all 12 events as they mixed around their line-up.
Laramie will be at home for double-dual meets on Friday and Saturday. They swim against East and Sheridan on Friday at 4 p.m., and then Campbell County and Kelly Walsh visit on Saturday at 9 a.m.
Laramie Cross Country
Led by senior Libby Berryhill, the Laramie Lady Plainsmen won the Leroy Sprague Invitational in Cheyenne last Friday at Prairie View Golf Course.
Berryhill won the girls' 5K race against the three Cheyenne schools with a time of 19:18.10. Freshman Addison Forry took fifth place (20:17.30). Three more Lady Plainsmen runners placed in the top 11. That helped LHS score 32 points and win the team crown by six over Cheyenne Central.
The Plainsmen placed second in the team standings with 66 points, well back of Cheyenne Central (18), who won the team title in the boys' division.
Senior Ted Rittle was the top finisher for LHS. He came in eighth place with a time of17:42.52.
Laramie will host the 4A West Conference Cross Country Championship meet on Friday at Jacoby Golf Course. The girls' varsity race is at 2:15 p.m., followed by the boys' race at 2:45 p.m.
Lady Plainsmen Volleyball
The top-ranked Laramie Lady Plainsmen rolled to a three-set sweep of 3A No. 5 Rawlins in an interclass match on Tuesday at LHS.
Laramie won by scores of 25-14, 25-17, 25-17, and improved to 14-0 on the season.
Alexis Stucky had 17 kills and 15 digs. Anna Gatlin added five kills and two blocks, while four other players had three kills apiece. Taylor Tyser led the defense with 18 digs, while Maddy Stucky finished with 27 assists.
Head coach Jill Stucky said, "It was an exciting match from the very beginning. We were able to execute well in long rallies, and our ball control was tremendous."
Maddy Stucky added, "Tonight, the competition was really good. We had some good, long rallies, and we executed well."
Laramie returns to action on Friday with a quadrant crossover match at No. 4 Kelly Walsh. Their match at Sheridan on Saturday has been canceled.
Enter your number to get our free mobile app
Here are the top 25 hits of the '80s based on their overall popularity.