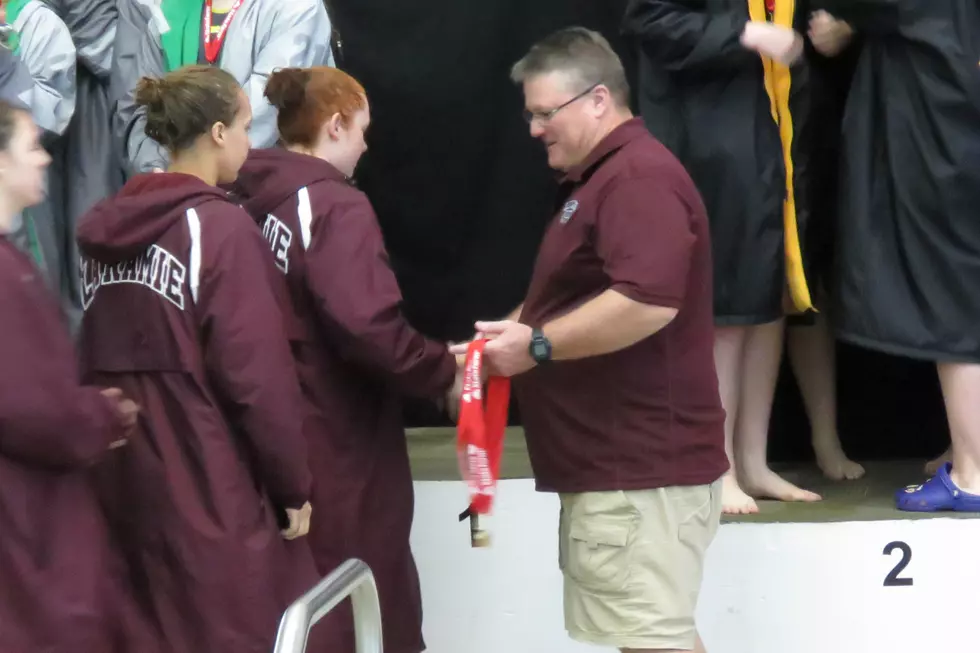 Laramie Girls Swimming Takes a Shot at Another Title [VIDEO]
David Settle, Townsquare Media
The goal of four in a row has been in front of the Laramie Lady Plainsmen swimming and diving team all season. Now, they'll try to finish the journey on top.
The Class 4A Wyoming High School State Swimming and Diving Championships will be Thursday and Friday at the Laramie High School Aquatics Center. The prelims and semifinals for diving start at 2 p.m. on Thursday. They will be followed by the swimming prelims starting at about 3:30 p.m. All the event finals are on Friday at 9 a.m.
Laramie coach Tom Hudson feels his squad is ready.
"We've been pretty healthy, for the most part, especially down this home stretch. We did end up getting 24 state qualifiers. I would say a weakness of our team early was our overall team depth, and I think we've remedied that throughout the last four or five weeks getting kids qualified."
Hudson added that he likes their chances in the diving event, where LHS has six qualifiers, and he feels good about their relays. The goal is to try to win at least two of them.
Laramie is led by senior Katie McPherson, juniors Anna Roesler and Natalie Six, and sophomore Ashlyn Mathes. McPherson will try to defend her crown in the 100 freestyle. LHS is also the defending champion in all three relays.
Hudson says any one of the three swimmers, McPherson, Roelser, or Mathes, has a chance at a state title.
"It just depends on who's swimming (in an event) and how the race goes… we have a chance to win some championships (individually), for sure."
As for the team aspect, Laramie won the title three years ago by a slim 10 points. The last two have been dominant victories. In 2018, the margin was 129 points, while 2019 was a 140-point win.
Hudson believes their chief competition comes from Cheyenne Central.
"They qualified 25 for the state championships. We have 24. They are just an incredibly deep team. They have a good top-end (of swimmers and divers). That's going to be our main competition, and right now, it's pretty much just a dead heat on paper."
Natalie Six spoke with KOWB's David Settle about the state meet, the team's preparation, her chances in diving, and what she expects for Laramie on Thursday and Friday.
The Lady Plainsmen will be going for their seventh state title with Hudson as head coach.
Enter your number to get our free mobile app
The 5 Highest Rated Laramie Coffee Shops on Yelp