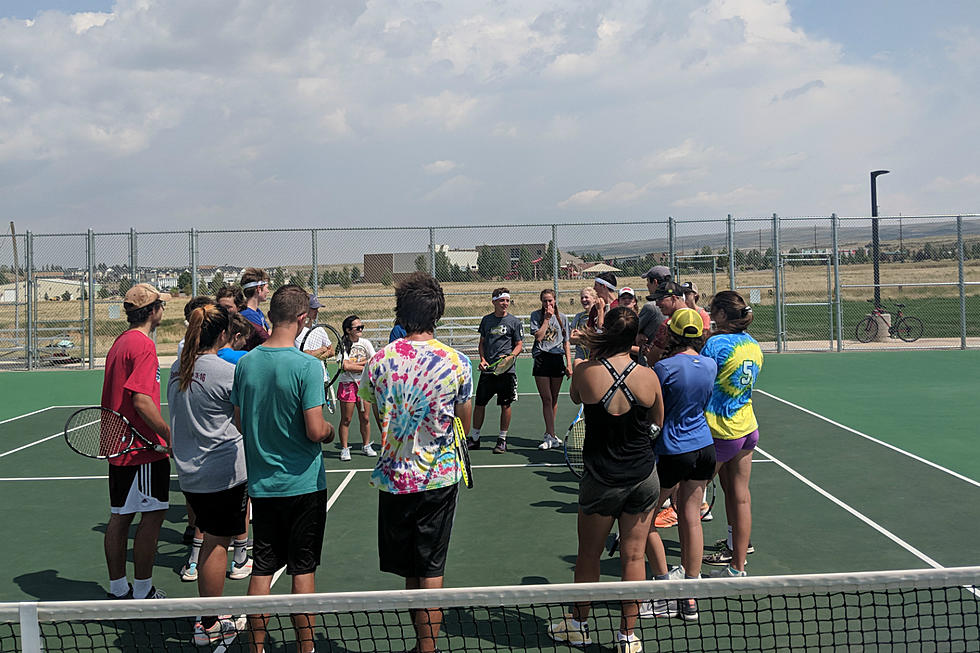 Laramie Tennis Is Fine With Big Goals [VIDEO]
David Settle, Townsquare Media
The new high school tennis season is yet again filled with lofty expectations for Laramie, who has won a boy's and girl's title in the last two years.
Fourth-year head coach Elizabeth Clower told KOWB's David Settle, she doesn't mind the high hopes.
"I always have that expectation (of contending for state). My girls, after they won state, and then the boys won state, well now it's their turn they say. They're excited about it. We welcome that expectation and embrace it."
Indeed, the Plainsmen are the defending champs and have won three of the last five team crowns at state tennis. They return three players from last year's line-up in seniors Noah Dreiling and Quingfeng Li, as well as junior Kyle Moore. Out of that group, Dreiling won a state championship at No. 2 doubles.
Clower admitted she leans on those three a lot.
"They're the leaders, and the leaders can never have a bad day. They've got to come to practice ready to go. They gotta be high energy and leading the team through the whole thing. They don't get to have a bad day, so we've talked about that, and I think they're up for the challenge."
The Lady Plainsmen enter 2018 off a tough season last year. They finished fifth at regionals and sixth at state. Five players return from that squad, including an All-State performer in senior Ally Franc. She has played singles and doubles in her career. Also back are seniors Caitlin Huang and Chloe Jenkins, plus juniors Hannah Brin and Grace Dorrell.
Dreiling and Franc joined Settle for some perspective on the 2018 Laramie High School tennis season. They discussed the outlook for the teams, playing with high expectations, being the go-to veterans, had some fun moments and more.
There is a lot of competition on the team with 58 student-athletes out for the team this fall season. The squad is led by 18 seniors.
Clower says, "The first thing we've got to do is figure out who makes up the top ten. We're close. We're not quite there. Then, we're really working on doubles strategies and putting away volleys and being aggressive."
The Plainsmen opened the season with a 5-0 victory over Kelly Walsh on Monday, Aug. 13 and followed that with a 4-1 win over Natrona County. Meanwhile, the Lady Plainsmen dropped a 5-0 match to KW but bounced back with a 4-1 victory against NC. The teams return to action Friday in Rawlins at 2 p.m. They also travel to Green River and Rock Springs Saturday for matches.
Clower feels their schedule will challenge the team and prepare them for the postseason. The South Regional Tennis tournament is in Rock Springs Sept. 14 and 15. The Wyoming State Tennis Championships is back in Gillette Sept. 20-22.
Clower sees the Cheyenne Central boys and girls, the Green River boys and girls, the Kelly Walsh girls and more teams that will be tough competition this year.
She says to get where we want to be, "It's going to take a whole team effort. Everybody has to get as deep into the tournament as possible. If we get a singles (player) in the finals, but our 3-doubles doesn't even make it into points, it'll be tough to win. We've got to all get deep into the tournament."
She added their team realizes every position is important and has their part to do.
The next home match is Tuesday, Aug. 28 versus Cheyenne East.