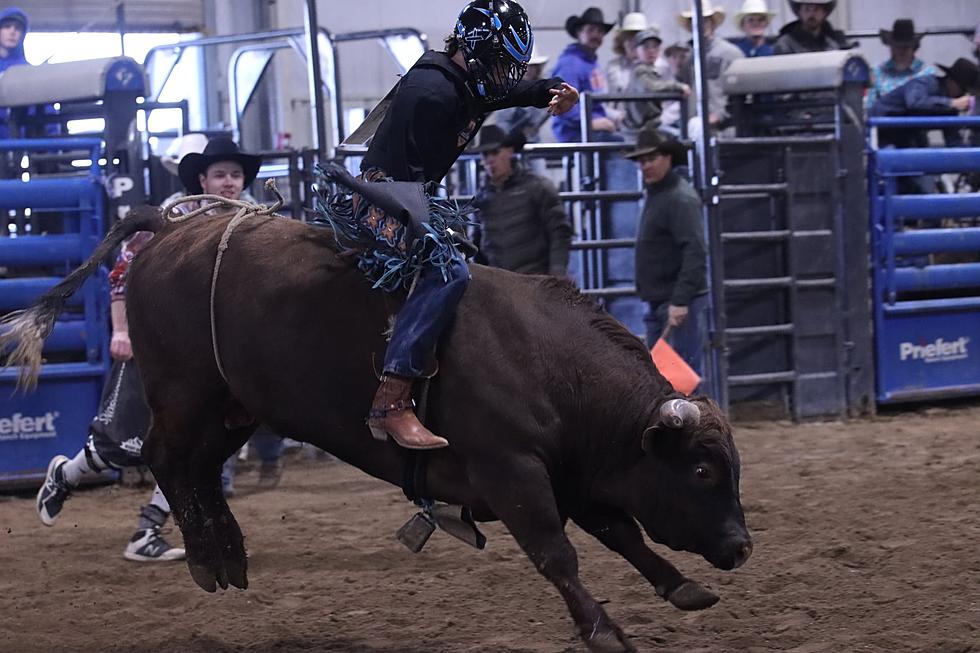 National Finals Rodeo Rolls Along in Lincoln
Joan Snyder Mitchell Townsquare Media
The National High School Finals Rodeo moved along yesterday in Lincoln, Nebraska. On the ladies' side, Ashlyn Goven from Rozet leads the barrel racing in the first go-round with a time of  17.494. Maddie Fantaskey of Worland running 2nd in the reined cow horse with 291.5 and 18th in the girls cutting with 140. Rozlyn Herren of Gillette posted a 7.94 so that put her in 4th in the go-round of the goat tying. In the breakaway roping, Mercati Martin of Evanston, who competes for Utah had a 2.55 which is good enough for 4th in the round. In the team standings, the Wyoming girls are in 8th place.
For the boys, Kall Mayfield of Midwest had a 7.25 in the steer wrestling so is sitting in 14th place. Team ropers Teagan Bentley and Mason Trollinger of Casper are in 4th after a run of 7.21 on Monday. Buffalo's  Cody Johnson and Jade Espenscheid of Big Piney are 20th with a time of 12.01. Jaspur Brower of Big Piney is currently 22nd in the bareback with a 53 in the first go-round while Gillettes Stratton Kohr is 10th in the tie-down roping with a first-round time of 11.69. Joe Hayden of Gillette is 11th in the boys cutting with 138. The Wyoming boys team is in 6th place overall and the National Finals continues all week in Lincoln with 2 performances per day and the finals on Saturday.
LOOK: Here Are 30 Foods That Are Poisonous to Dogs
To prepare yourself for a potential incident, always keep your vet's phone number handy, along with an after-hours clinic you can call in an emergency. The ASPCA Animal Poison Control Center also has a hotline you can call at (888) 426-4435 for advice.
Even with all of these resources, however, the best cure for food poisoning is preventing it in the first place. To give you an idea of what human foods can be dangerous, Stacker has put together a slideshow of 30 common foods to avoid. Take a look to see if there are any that surprise you.